Swift(ly) it goes…
Outrage Magazine takes a closer look at Suzuki Swift 1.2 A/T.
Pretty sexy may not (always) be associated with hatchbacks (HBs); but if HBs can be pretty sexy at all, Suzuki's Swift may well be one epitome of this.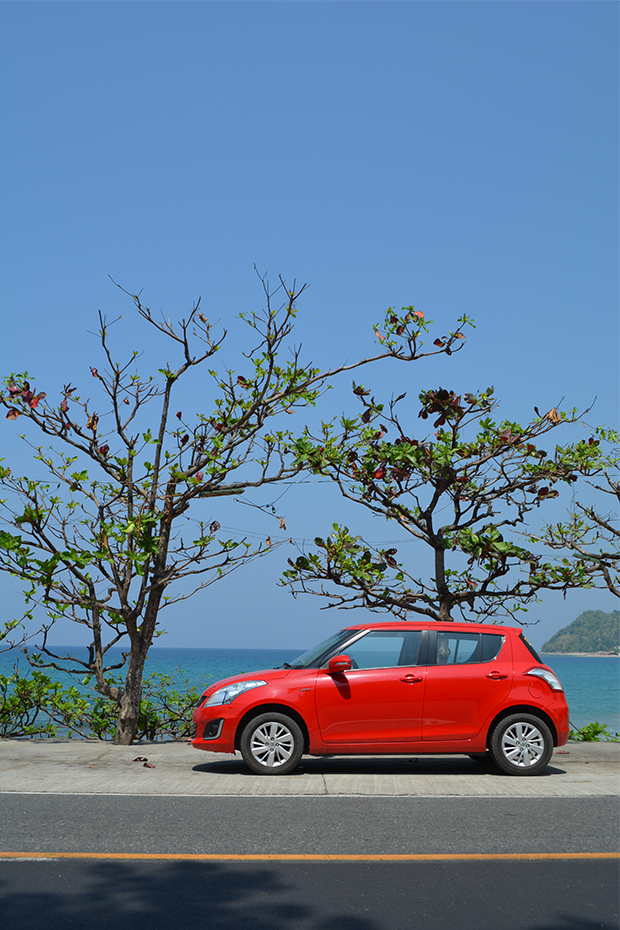 Consider the red (they "officially" refer to this shade as "Blazing Red Metallic") unit that arrived at my doorstep in Las Piñas.
On the outside, the color is a must-mention; it isn't at all tacky, instead, it's of a shade that may easily remind one of… that eye-catching outfit worn by THAT "girl in the red dress" in "The Matrix". It is also not as boxy as, say, the Wigo – a plus in my books because it gave this car a smooth(er) silhouette (instead of the seeming abrupt cuts of the former), mimicking sportier cars. It has a low hood that emphasizes the headlights that, as a pamangkin (nephew) noted, "looked like Pokemon eyes". There's the (more) expansive windshield – perhaps not as expansive as the Jimny's, but definitely more than Celerio's. And then there're the 15-inch alloy wheels that give the car a somewhat "elevated" look (not as elevated as Jimny's, but higher than Celerio's).
The inside of Swift has touches that are also worth mentioning – e.g. comfy black seats that gave that sense of class (think of red trimmings on black, even on the door handles), GPS-ready touchscreen audio unit (though here, Ciaz's Android-running capability was definitely better), brilliantly-lit gauges, high headroom (for those in front and the back), dual SRS airbags, side impact beams, and ABS.
This isn't to say that the Swift is, well, ALL THAT; it also has (numerous) limitations. There's the basag sound system, particularly when music is played loudly (literally, "broken"; though also referring to bad sound quality). The A/C sucks (on a hot day, expect to still sweat even if the A/C is already full blast). The leg room is a-okay in front; but at the back, it's a tight squeeze (three can supposedly fit there, but the designers may have been thinking of people with short legs or of kids). Kulang (lacking) storage spaces – heck, there isn't even a cup holder by the gear stick (!). And the trunk space is quite limited (perhaps typical of HBs here). On a trip outside the city, I chucked my backpack, a sling bag (with my laptop and camera in it), a pair of shoes and around six kilos of singkamas (yam bean; from some vendor along the highway in La Union), and it was already full. Yes, the back seats can be folded (again, typical of HBs); but this isn't always possible, particularly if you've (extra) passengers with you. And so making do with the tiny trunk is… tricky, to say the least.
But as was pointed out to me, who are we to complain when Swift – which is also available in: Pearl Metallic Arctic White, Metallic Silky Silver, Glistening Grey Metallic and Metallic Midnight Black – sells for only P678,000?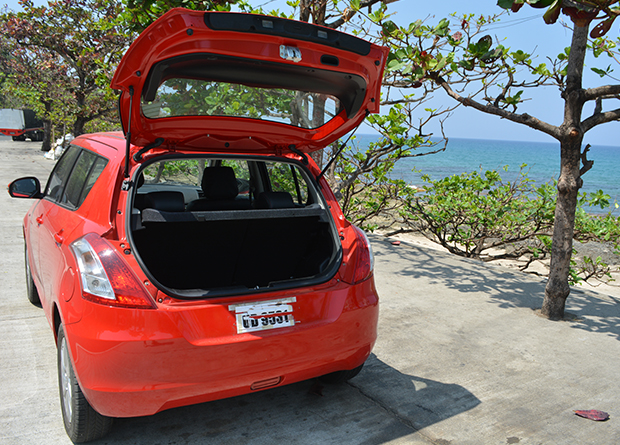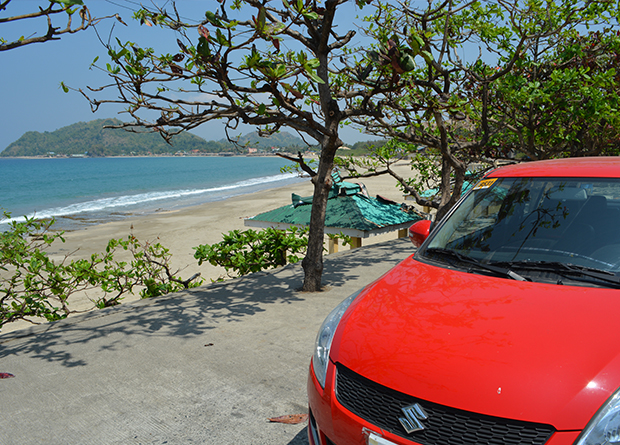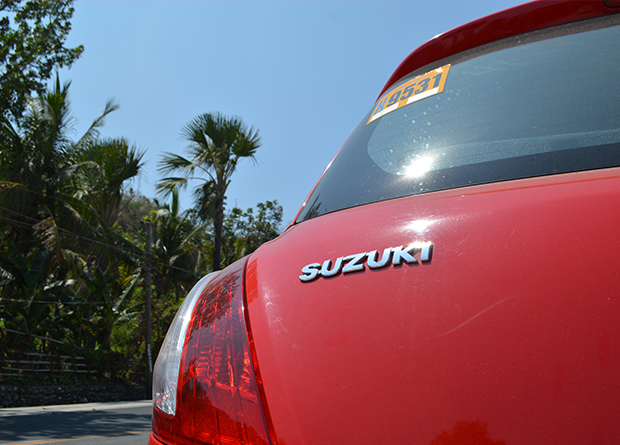 With a 1.2 liter, 4-cylinder VVT engine, the Swift is by no means a mean machine. I noticed, for instance, that the car sorta struggles revving up again once you've slowed down; it's almost like the climb from 0 to 20 to 40 to 60 and so on is too taxing for the car. The Swift is also not malikot (doesn't move a lot) even when force to speed up; nor is it noisy (driving along TPLEX, it was almost like being enclosed in a bubble).
Now, this car may be "sold" as a city car (i.e. small and all that). But we all know that (even) city cars are stretched to their limits by the owners who (still) use these cars for out-of-the-city trips. Which was what I did with a trip up north in Pangasinan (i.e. La Union) an then Ilocos Sur (i.e. Vigan).
Now…
If you think being in "tight spots" means driving in, say, Sta. Ana market during market day, or braving Divisoria's insides on a weekend, then an alternative may be driving to a place like Marilao in Bulacan, where if you just blindly follow Waze (which I did, LOL!), you'd end up traversing cemented one-way roads right in the middle of rice paddies. Here, Swift's small size came in extremely handy, so that the thought of a possible incoming traffic should be worrisome (for most), but not necessarily so when on Swift.
I found myself in the same tight spot (again) in a small barangay in Bauang in La Union, where – after following a tourist guide to a vineyard – Swift had to traverse a somewhat tight rough road, where the car's size came in handy again (as much as the Hyundai Eon's and the Mitsubishi Mirage's also there then). Yes, the car felt out of place there (literally speaking, since I could "feel" the pebbles/rocks slip under the car); but that it fit the tight spot well was comforting, indeed.
The Swift also moved smoothly in braving curves – e.g. passing through the tricky roads that lead to/from Quirino Bridge in Ilocos Sur.
Fuel consumption in the city averaged from 10.6km/L to 11.6km/L; while outside, it went up to 12.7km/L to 13.0km/L. On the expressway, this went to 14.0km/L.
It was before entering TPLEX again (on the way back to Manila) that I felt Swift as a city "thing". There, it was the only small car, with SUVs, 4WDs, buses, et cetera what appeared like "normal"…
Twice, Swift was mistaken for Wigo ("WHAT!?" moments for me), so this obviously pigeonholes this car with the likes of, yes, Wigo, Hyundai Eon, Kia Picanto and Mitsubishi Mirage. Suffice to say, if you're considering a HB, then Swift definitely deserves to be given a spin.
And for me, plus points for it being pretty sexy…
Mental health of young adults with lesbian parents the same as their peers, study finds
25-year-olds raised by lesbian parents do as well on multiple measures of psychological health as adults from a population-based sample.
25-year-olds raised by lesbian parents do as well on multiple measures of psychological health as adults from a population-based sample. This is according to the longest-running prospective study on sexual minority parent families, with the researchers comparing relationships, educational/job performance, and behavioral, emotional and mental health problems in the two samples.
The report, "National Longitudinal Lesbian Family Study—Mental Health of Adult Offspring", appeared in The New England Journal of Medicine and is co-authored by Nanette Gartrell, M.D., Visiting Distinguished Scholar, along with Henny Bos, Ph.D., former Visiting International Scholar at the Williams Institute, and Audrey Koh, M.D., Associate Professor, Department of Obstetrics, Gynecology, and Reproductive Sciences, University of California, San Francisco.
The 25-year-olds are participants in the ongoing US National Longitudinal Lesbian Family Study (NLLFS), which has followed this cohort of offspring from conception to adulthood. The NLLFS, now in its 32nd year, has a 92% retention rate. This is the first NLLFS report based on data collected when the offspring were legal adults.
"When I began this study in 1986, there was considerable speculation about the future mental health of children conceived through donor insemination and raised by sexual minority parents," said lead author Nanette Gartrell, M.D., Visiting Distinguished Scholar at the Williams Institute at UCLA School of Law. "We have followed these families since the mothers were inseminating or pregnant and now find that their 25-year-old daughters and sons score as well on mental health as other adults of the same age."
The study focused on mental health because the peak incidence of many psychiatric disorders occurs during young adulthood. The researchers matched the 77 adult offspring in the NLLFS with a population-based sample of 77 adults of comparable age, sex, race/ethnicity and education to examine any disparities in their mental health.
The researchers specifically assessed adaptive functioning, the presence of behavioral or emotional problems, scores on the mental health diagnostic scales, and percentages of scores in the borderline or clinical range. Results showed no significant difference between the two groups for any of the measures.
"These findings demonstrate that claims that it is harmful for children to be raised by same-sex couples are completely unfounded," said co-author Henny Bos, Ph.D., Professor of Child Development and Education, and Endowed Chair in Sexual and Gender Diversity in Families and Youth at the University of Amsterdam. "There is no justification to restrict child custody or placement, or access to reproductive technologies, based on the parents' sexual orientation."
There are an estimated 114,000 same-sex couples raising children in the US, including 86,000 female couples. Ten states, including Alabama, Kansas, Michigan, Mississippi, North Dakota, Oklahoma, South Carolina, South Dakota, Texas, Virginia, allow state-licensed child welfare agencies to refuse to place and provide services to children and families if it conflicts with their religious beliefs.
This is the 23rd publication from data collected in the NLLFS. Previous research found that the development of psychological well-being in these offspring over a seven-year period from childhood through adolescence was the same for those conceived through known or unknown sperm donors. In addition, the absence of male role models did not adversely affect the psychological adjustment of 17-year-olds raised in lesbian households. None of these 17-year-olds had been abused by a parent or caregiver. In contrast, 26 percent of 17-year-olds nationally report physical abuse and 8% report sexual abuse by a parent or caregiver.